I am selling

this very rare and old instrument by an unknown manufacturer from Central or Western Europe. The estimated age of this horn is
one hundred years. The instument is mainly extraordinary thanks to its specific design. The design combines a straight shape of the body, bell and also rotary valves. It is atypical as for the type group of European instruments as well as for instruments from United Kingdom. The type of used materials and quality of workmanship testifies to the fact, that the instrument was made by an experienced manufacturer.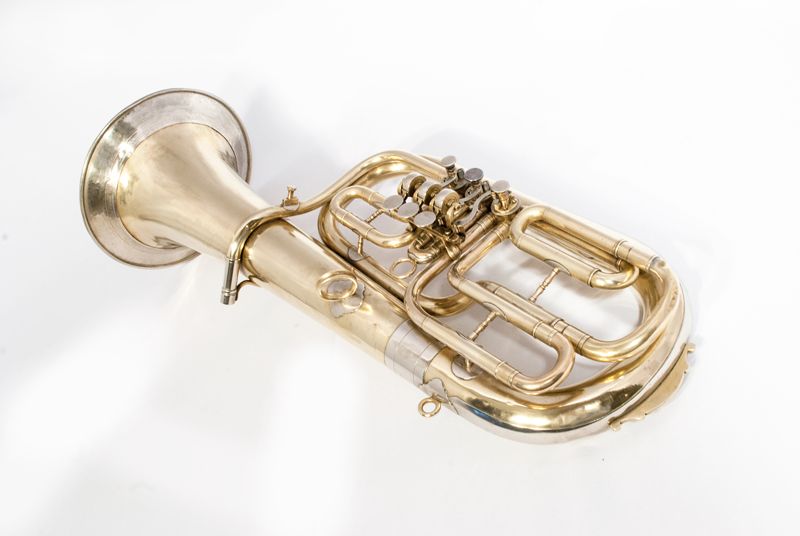 This instrument is despite its age in decent mechanical condition. It was completely disassembled by a professional repairman, cleaned mechanically and also ultrasonically. Rotary valves are working well. Valves were removed from valve casings and polished before this sale. This horn is inside famously pure. Please read condition description too and see some cosmetic imperfections on photos. The instrument is very old and so you can not expect that it will look like a new. Anyway, this horn is ready to be immediately played or become part of a collection.
In comparison with a British style Euphonium sounds this instrument a little lighter, but also dark and not as a British baritone. Its in conical design. If you are an Euphonium player, you will be surprised how this instrument responds. Playing this rotary valve instrument is quite different in comparison with playing instruments with piston valves. It is like the difference between heavy american sedan and Japanese lightweight sports car (rotary valves). This horn plays more softly, reacts faster and do not need much air.
Do you need more photos? Please contact me!
Manufactured by:

Unknown

handmade production

Tuning:

Bb like Baritone horn or Euphonium (three rotary valves)

Bore:

12.00 mm / .472 in

Bell diameter:

22 cm / 8.66 in

Finish:

Raw Brass

Receiver:

Small shank

Size:

63 cm / 24.80 in

Case:

Sorry, but I have not got a case for this horn.

Pros:

Unusual design and construction

Plays still great

Good mechanical condition